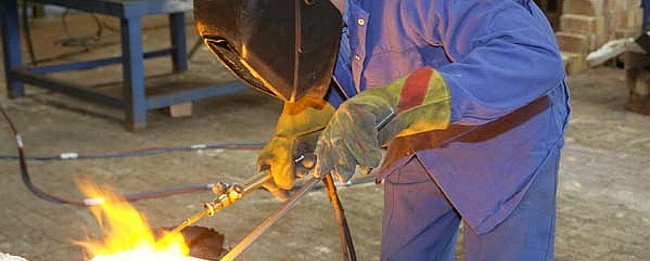 Cast Iron Welding Services
Welding Cast Iron is our specialty. To achieve a successful Cast Iron Repair by welding, Cast Iron Welding Services utilise their unique Gas Fusion weld repair process. Weld repairs to cast iron components include;- cast iron cylinder heads, engine blocks, exhaust manifolds, turbocharger casings, valve bodies, pump housings, gearboxes, Electric motors, flanges etc. We repair cast iron products of, flake iron, spheroidal graphite and Ni-Resist materials.
Marine Casting Repair and Refurbishment
Cast iron and cast steel is and has been used extensively by the leading manufacturers of marine diesel engines, Wartsila, MAN, MaK, Pielstick, Sulzer, Stork, Deutz, Niigata, Rolls Royce, Hanshin, Mirrlees, B&W, ABB, Napier. etc. to name but a few. The ship engineers need for cast iron repairs is ongoing and we at Cast Iron Welding Services repair cylinder heads, cylinder covers, turbocharger casings, liners, exhaust housings, valve cages, exhaust manifolds and gypsy chain wheels. Classification approved gas fusion weld repairs of cast iron components is our specialty.
Industrial Casting Repair and Refurbishment
A variety of cast iron components are used throughout industry, these range from small cast iron brackets, flanges, Stator bodies and portable machines etc., to large capital plant;- presses, gearboxes, pump housings, valve bodies, compressor heads, machine tools etc. Weld repairs to broken, corroded and fractured cast iron parts, reduce running, maintenance and downtime costs.
Power Generation Casting Repair and Refurbishment
Cast iron and some Ni-Resist materials may be used in the manufacture of pumps, gearboxes, pipes, valve housings, flanges, turbine housings, cylinder heads, turbocharger casings, blowers, crushers, liners, engine blocks, manifolds, bearing pedestals etc. Keep the lights on! Cast Iron Welding Services Ltd., THE specialists in welding cast iron.
Restoration and Conservation of Buildings
and Heritage Installations
The use of cast iron in architecture became popular in the Victorian era. Cast iron can be both structural and ornamental ranging from cast iron pillars, decorative facades, bridge supports and band stands etc to cast iron street furniture, fountains, chimney caps, fences, gates and sluice installations. etc. Welding cast iron helps ensure historical sites utilising cast iron in their construction are preserved for future generations to enjoy.
Pump Casting Repairs
Impellers can have cracks and severe corrosion to the blades badly affecting performance. Cast Iron Welding Services' gas fusion welding process can build up the impellers and machine them back to original profile. Pump housings suffering from bad corrosion on bearing surfaces and joint faces are also built up with fusion weld and are machined back to their original size. An ideal repair process when pump components are obsolete or when new components have long delivery times.
Steam Locomotive and Traction Engine Casting Repairs
Cast iron was used almost exclusively in the manufacture of steam engines be they used for locomotion or stationary duties. Cast iron weld repairs to steam chests, chimney stacks, cylinder blocks, steam inlet and outlet ports, PTO units, flywheels, and pulleys etc., help keep these relics of a bygone era on the straight and not so narrow!
Veteran, Vintage and Classic Motor Vehicles Casting Repairs
Welding of cracked and corroded cast iron engine blocks, cylinder heads, exhaust manifolds and gear box casings enhances and extends the life of these rare, select and venerable machines. Cast Iron Welding Services undertake weld repair by rebuilding of valve seats, manifold lugs and bearing locations etc. In addition to cracks due to frost and mechanical damage. Read More…