Cast Iron Welding Services on Richard Hammond's Workshop
The former Top Gear and The Grand Tour star will set off without his regular co-hosts James May and Jeremy Clarkson and open his own classic car restoration business, named The Smallest Cog. The six-part series gives viewers a look into the fascinating world of classic car restoration and follows Richard as he tries to get his new venture off the ground.
One of the first challenges met by Richard and his team was restoring a classic 70's supercar. Hammond came to our experts at Cast Iron Welding Services when he discovered a large crack in the cast iron V8 engine block. As leaders in cast iron engine repairs, we were delighted to assist the petrolhead presenter by completing the repair work. Our expertise allowed us to help Richard get a fantastic piece of automotive history back on the road and driving better than ever.
Cast Iron Welding Services vintage and classic car restoration
Vintage and classic vehicle restoration is a rapidly growing industry. As time passes, these beautiful pieces of history suffer from wear and tear and the negative effects of ageing. At Cast Iron Welding Services we have proven ourselves to be the best cast iron welders in the business for classic car restoration. As a result, we have seen our businesses boosted by celebrity and media interest, as well as partnerships with large restoration organisations.
Our Managing Director, Peter Palmer, said: "It was pretty exciting for us really… We were also on the Yesterday channel on Monday as part of a film of the restoration of the North Bridge."
Cast iron engine block welding experts
Our expertise in welding and repairing cracked and damaged cast-iron engine blocks, gearbox casings, cylinder heads and exhaust manifolds can vastly extend the life of your vintage vehicle. Our engineers can also repair many other classic car parts, including any damage caused by frost. With many years of industry-leading restoration experience, it is no surprise that we are being recognised by the TV world and famous faces like Richard Hammond.
History and heritage at Cast Iron Welding Services
At Cast Iron Welding Services, we have a strong affinity with Richard's journey into the classic car restoration world. Hammond was inspired to undertake this challenge by memories of his grandfather, who became a coachbuilder after World War II and spent his life working in Birmingham and West Bromwich. Richard wants to follow in his footsteps and work with classic vehicles himself.
As a company founded by two brothers back in 1946, we felt an instant kinship with Richard's family heritage. Over many years we have perfected our methodology for gas-fusion welding for cast-iron engine blocks, making us the perfect choice for classic vehicle restoration. With such closely linked history, it is no surprise that Hammond chose us for his restoration work, just like so many discerning classic car owners have done in the past.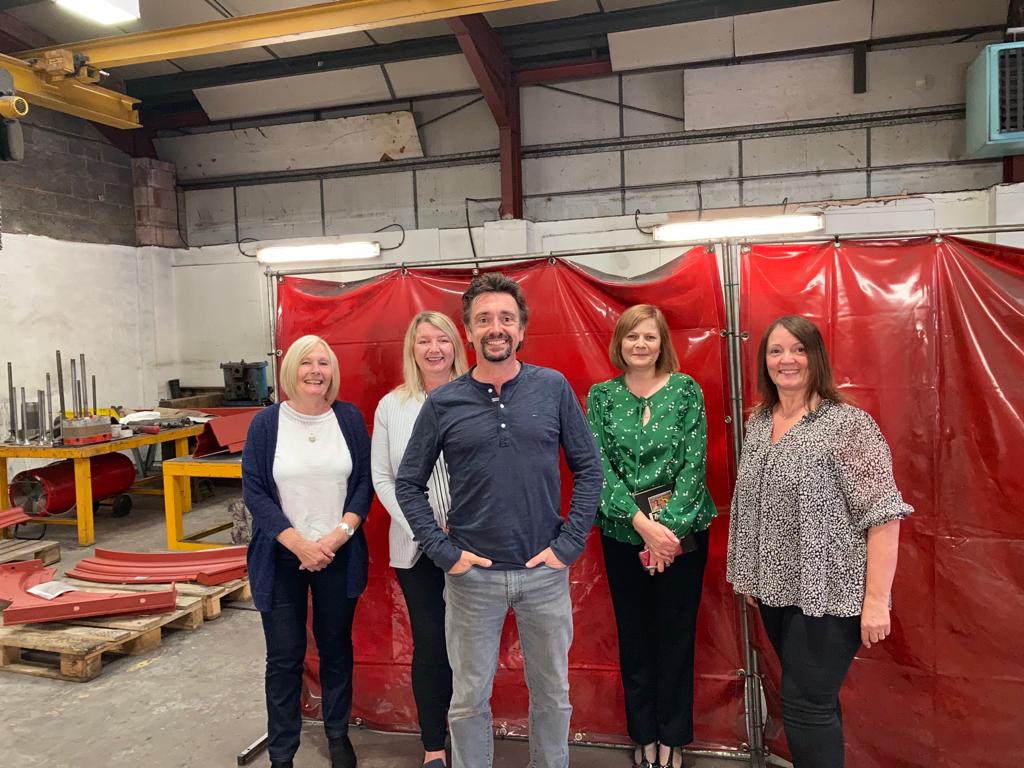 Cast Iron Welding Services cast iron restoration experts
It's not just classic cars that our cast iron welding expertise applies to. As seen on the Yesterday channel's Great British Landmark Fixers, we also offer Heritage Restoration repairs that preserve historic cast iron architecture. In the episode, Cast Iron Welding Services joined a hand-picked team of specialists to restore Edinburgh's historic North Bridge. Our renowned cast iron restoration process was instrumental in getting the structure back to its former glory.
Cast iron has been historically used for both structural and ornamental building purposes. However, much like with classic car components, many of these structures have fallen into disrepair and need expert restoration. This is particularly true of structures built in the Victorian era, as they have been exposed to the elements for longer. Our dedicated engineers use their expertise to keep history alive with the restoration of both classic cars and historic structures.
If your vintage car or classic cast iron structure could benefit from expert restoration, contact the Cast Iron Welding Services engineers today.