Are you looking for a fulfilling and diverse career? Many young people may not consider pursuing a career in welding due to limited awareness, opportunity, and support, but there are so many options and benefits to a welding apprenticeship.
Cast Iron Welding Services offers Level 2 and Level 3 apprenticeships in welding and fabrication, including part-time options, at South Derbyshire College. We encourage and support more young people to embark on a rewarding career in welding.
Diverse Opportunities, Expert Guidance, and Supportive Community
Our Level 3 welding apprenticeship offers a range of opportunities in the welding field, ranging from classic car restoration to cast iron welding repair services. You'll have the chance to acquire valuable knowledge and skills from experienced professionals, positioning you for a prosperous career as a cast iron welder. You'll be welcomed into a supportive community ensuring your continuous growth in the industry. With our Level 2 and Level 3 apprenticeships, tailored to meet your needs in Burton and South Derbyshire, you'll find a clear path to success in the welding profession.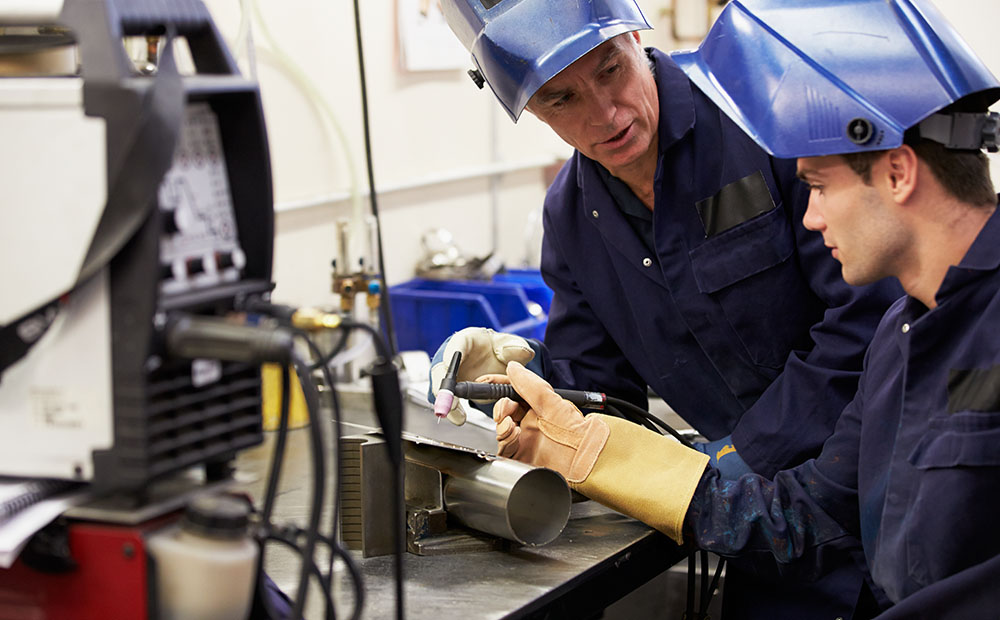 Why Choose an Apprenticeship in Cast Iron Welding?
If you are considering your career options and looking for a path that combines practical skills, job security, and personal growth, there are many reasons to choose an apprenticeship in Cast Iron Welding.
High Demand for Welders: Welding is a vital skill in industries such as manufacturing, construction, aerospace, and automotive. Skilled cast iron welders are in constant demand as there are only a small amount of companies that have this skillset, providing excellent job prospects and stability.
Hands-On Learning: Our apprenticeships offer practical, hands-on training, allowing you to develop essential welding skills under the guidance of experienced professionals. You'll gain real-world experience from day one.
Diverse Career Opportunities: Welding opens doors to a wide range of career paths, from fabricating intricate structures to repairing essential machinery. Your skills can take you across various industries and job roles.
Attractive Earnings: Welders often enjoy competitive salaries and the potential for overtime pay. As you gain experience and certifications, your earning potential can grow significantly.
Personal Growth: Welding apprenticeships provide opportunities for personal growth and development. You'll build problem-solving skills, attention to detail, and the ability to work independently and as part of a team.
Supportive Environment: At Cast Iron Welding, we are committed to your success. Our apprenticeship programs offer a supportive learning environment with expert instructors who are passionate about helping you excel.
Recognised Qualifications: Our Level 2 and Level 3 apprenticeships are accredited, ensuring that you receive industry-recognised qualifications that enhance your career prospects.
Join a Skilled Community: Welding fosters a sense of community among professionals. By joining Cast Iron Welding, you become part of a network of skilled welders and fabricators.
Invest in Your Future: An apprenticeship in welding is an investment in your future. It equips you with valuable skills that will serve you well throughout your career journey.
Cast Iron Welding and South Derbyshire College are here to support and encourage young talent like you to start a fulfilling and rewarding career in welding.
Discover more from a current Welding apprentice
Frequently Asked Questions
What is a welding apprenticeship?
Who can apply for a welding apprenticeship?
How long does a welding apprenticeship last?
Do I need prior welding experience to apply for an apprenticeship?
Is there a wage for apprentices during the training period?
Will I receive any qualifications upon completing the apprenticeship?
Is there a support system in place for apprentices?
What are the career prospects after completing a welding apprenticeship?
Get in Touch
Trust Cast Iron Welding Services for all your cast iron welding requirements. Contact us today to discuss your project and benefit from our expertise in restoring and enhancing the performance of your cast iron components.