We have been on site to tender for the restoration of a cast iron and wrought iron roof structure, I have to say I do love the unique heritage projects.
We have just recently finished the repair of cast iron supports from the Samuel Wyatt Vinery at Holkham Hall in Norfolk, with the main contractor for the project being Messenger BCR Group.  We were asked to restore the cast iron supports and arch braces together with restoring a fanlight which is a beautiful wrought iron and lead window placement which has such intricate detailing. Marie our Director even managed to get involved with the painting of the window with business development manager Andy. (Pictured below).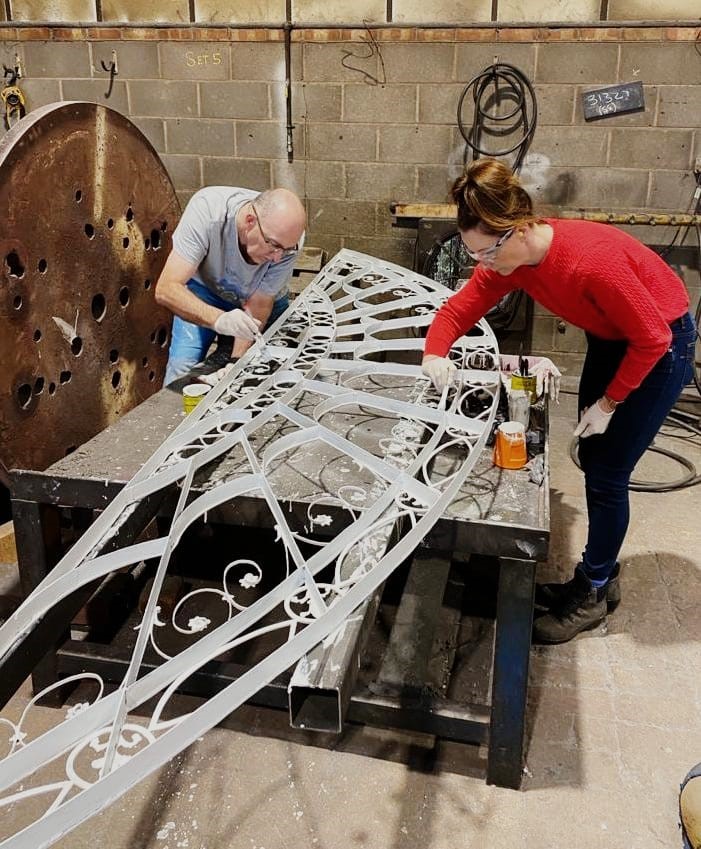 Whilst we take pride in all the projects CIWS are involved in whether it is a cylinder head from a power station or vessel or a vintage car block, I have to say the heritage projects are ones that I love being involved in and playing a small part in helping to restore and retain some of our historical buildings and structures.
Marie Palmer's Video Transcript as part of the Directors Diaries:
"Hi everyone, we've been a little quiet on the video front in the last week but the good news is the business has been crazy busy. We've been out this week on a site visit to a historic building, we've been asked to tender for the repair and restoration of a cast iron and wrought iron roof structure. So that was really interesting to go and visit the location and I have to say I really do enjoy these heritage projects because they're just so unique.
We have also completed a project for Holkham Hall and the Samuel Wyatt Vinery with some cast iron braces and supports within the vinaery that we were asked to repair and restore. We were also involved and repaired the fanlight which is a window placement that is a wrought iron and lead window thats very intricate. What a beautiful window (See image above). We're really proud with the project, those historic projects don't come along very often, they're very rare and unusual but everyone's over the moon with the results. There's a lot of things going on in the business with heritage projects at the moment, it's nice to see that organisations in times such as this still focus on restoring our heritage, I hope everyone's ok, have a great week and we'll catch up again soon"